(SACRAMENTO)
— Take a glance at medical student Angelica Juarez's volunteerism and you quickly see her passion for bringing medical care to the underserved.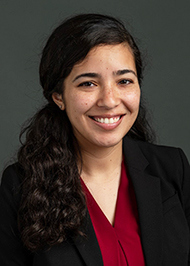 After graduating from UCLA with a degree in neuroscience, she returned to her hometown in the Inland Empire and helped organize a health fair. She then joined AmeriCorps and assisted Spanish-speaking patients at a Federally Qualified Health Center; in her spare time, she volunteered with the center's mobile clinic at migrant farming communities. In the past few years, she took a leading role at the UC Davis student-run Clinica Tepati and helped create a culturally conscious cooking class.
Her remarkable devotion to caring for the underserved has drawn the attention of the UniHealth Foundation, which has awarded Juarez a major scholarship.
The foundation offers the award to assist students who attended high school in Los Angeles, Orange, Riverside or San Bernardino County and who express the desire to return to the area to practice primary care in a medically underserved community.
"Angelica is an ideal candidate for the UniHealth Scholarship because of her impressive academic record, her commitment to community service and her plans to return to the Los Angeles area to practice medicine after she completes her training," said Associate Dean for Students Sharad Jain.
"We are proud to nominate her for this prestigious scholarship and to count her as a future graduate of the UC Davis School of Medicine," added Jain, who was instrumental in endorsing Juarez for the award.
Juarez, a fourth-year student on track to be a pediatrician, said she was surprised to be awarded the scholarship, which she said will go a long way in reducing her projected student debt.
"The fact that I was chosen above all my inspirational classmates, and who are equally qualified, I was just really grateful," Juarez said. "And it's a huge load that's off my shoulders, financially."
The one-year scholarship is for $55,000.
Juarez, the daughter of Guatemalan immigrants, grew up in Beaumont, a city along Interstate 10 in Riverside County that is about 43% Hispanic. She is eager to return to Southern California to practice medicine.
"Ultimately, I want to end up somewhere with a diverse population, definitely," Juarez said. "I can see myself as a general pediatrician and being involved with schools and communities in underserved areas."
Category
Tags