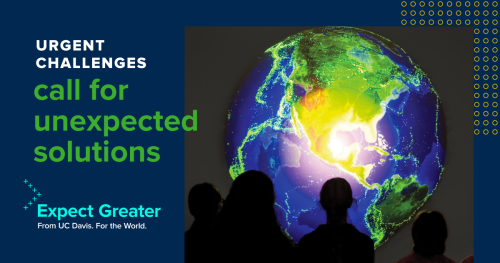 The world has come to expect great things from UC Davis. We're known for bold ideas and daring approaches. External support is vital to continuing UC Davis' standing as a top 10 public research institution. Private industry can help us foster an environment of learning and creative discovery through philanthropic contributions to student scholarships, research projects, and advancing innovation. 
UC Davis' talent, interdisciplinary and entrepreneurial culture, and world-class faculty combine to make this campus an exceptional resource that can help drive your company's level of success. Our Foundation and Corporate Engagement team is here to assist in strengthening your presence on campus and deepening your ties to the University, including:
Philanthropy including student scholarships, fellowships and gifts

Naming rights (buildings, rooms, labs, etc.)

Faculty chairs/professorships

Equipment donations

Event sponsorships 

Join our Expect Greater campaign! UC Davis' comprehensive fundraising campaign - second in the university's history - has set an ambitious goal to allow UC Davis to redefine what a great public university can achieve in partnership with those who share its vision for a better world. 
"Your gift will have a powerful impact—inspiring bigger ideas and bolder solutions that build stronger communities, helping people around the world lead healthier and richer lives, and shaping a brighter future for the planet we share."
—Chancellor Gary S. May
Learn more about the Expect Greater campaign