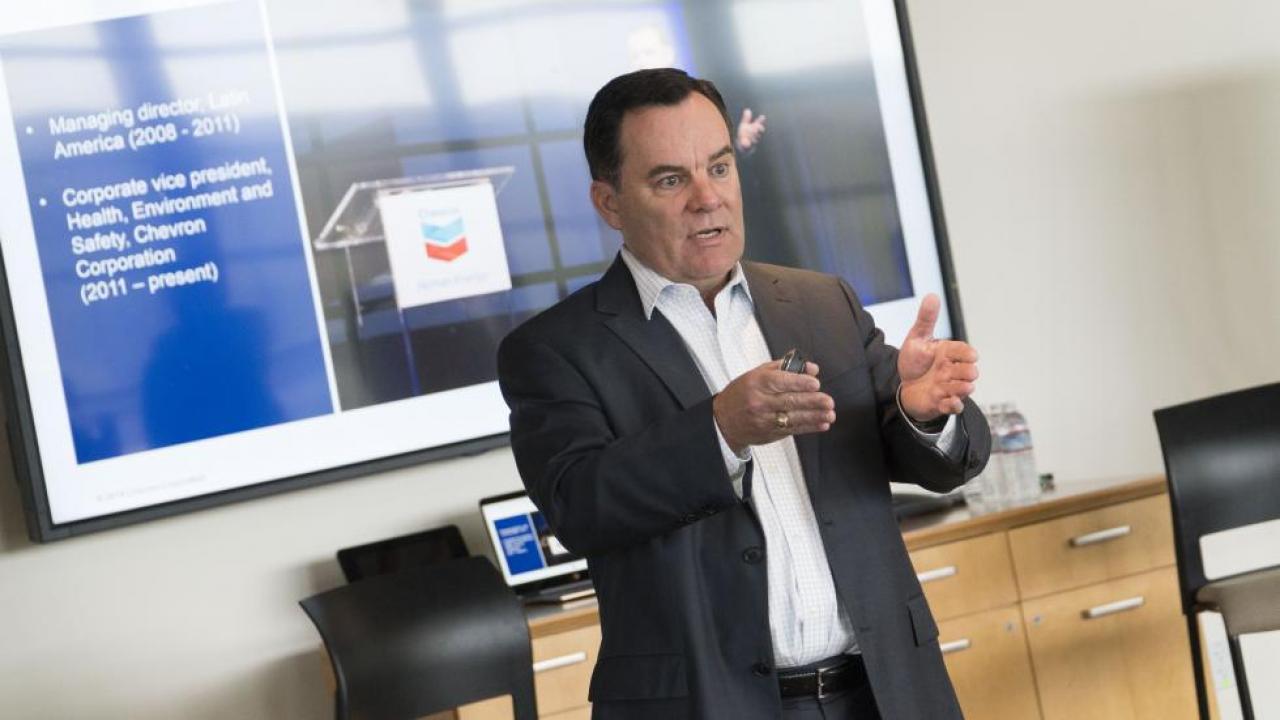 Originally published by UC Davis Graduate School of Management
By Brad Hooker
In balancing climate change with shareholder returns, it's complicated
The executive is from a company with a market cap of nearly a quarter trillion dollars. The students have his full attention.
It's the finale of the Sustainable Energy Industry Immersion course and the student teams are presenting their solutions from a live case study posed by energy giant Chevron Corp.
Beyond the emissions and cap-and-trade calculations, the case study speaks to a shared passion. MBA and energy graduate students joined this course in hopes of learning how they can help the energy sector, critical to the global economy, transition into a new era of changing climates and environmental sustainability.
How do we fuel sustainability?
After introducing himself at the beginning of the class, Chevron executive Wes Lohec launched into a spirited discussion with students about the company's energy strategy.
As vice president of health, environment and safety at Chevron, Lohec has a key role in managing climate risks for the company, which just days before published its second report describing the company's approach to managing climate change risks and its resilience under a low-carbon scenario. 
With operations in 180 countries, Chevron is headquartered in San Ramon, California, close to the UC Davis Graduate School of Management's Bay Area MBA campus. Chevron's former CEO is John Watson, a UC Davis alumnus.
"We live and breathe to deliver energy to the world every day," Lohec said to the students. "We need to do that while protecting the environment and we need to do that in a way that returns funds to our shareholders."
Lohec talked about the Sustainable Development Goals the United Nations established to "end poverty, protect the planet and ensure prosperity for all."
He said that affordable, reliable energy is important to achieving all of these goals, and that this needs to be balanced with the focus on climate action. Lohec encouraged the students to challenge him in this conversation.
MBA student Claire Halbrook raised her hand.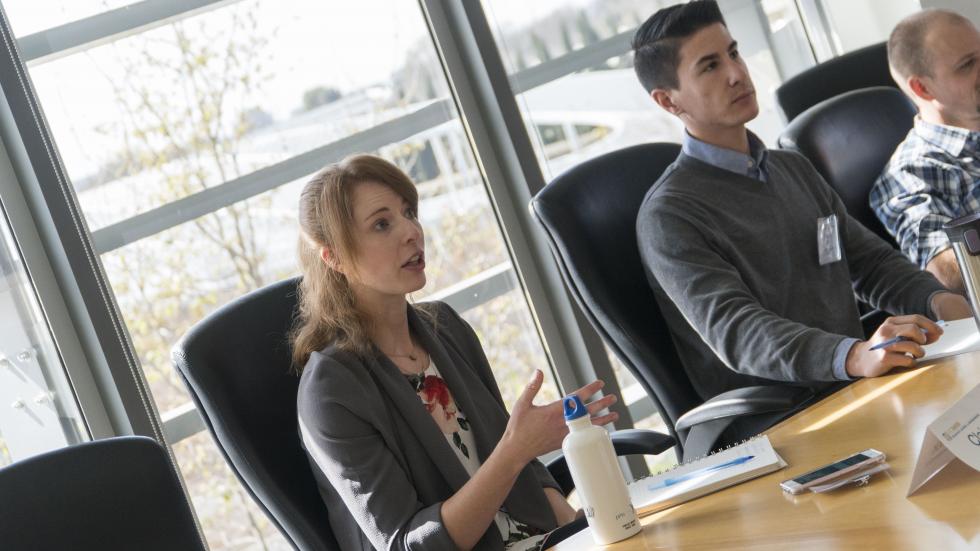 "I feel like part of the push to bring alternative sources to be reliable at scale and affordable are things that Chevron has resisted in a lot of arenas," said Halbrook, who spent six years working in energy and environmental policy in California before enrolling at the Graduate School of Management.
"I feel that part of the reason it's not coming is because Chevron's not allowing it to."
Lohec politely countered.
"I would disagree with the term 'resist,'" he said. "We have looked at it analytically and decided there is nothing else we should be doing other than what we are doing right now. But we're certainly not putting obstacles up."
Lohec mentioned how Chevron spent $16 million on researching biofuels at UC Davis alone, but could not make it profitable.
"We live and breathe to deliver energy to the world every day."
"I have to echo Claire's comments," said Nick Pappas, a master's student in the Energy Graduate Group. "Having been in the policy arena in California for a number of years, I think Chevron's the number one player pushing back against policies that are intended to address (climate change)."
In response, Lohec described the four principles that guide Chevron's actions and policy views on climate change that call for, among other things, global engagement and action, and continued research and innovation
Lohec's discussion lasted nearly two hours, breaking eventually for lunch and for the students to team up and work on the case study.
A case study like no other
MBA student Halbrook and Pappas partnered with engineering graduate student Jeremy Loeb to tackle the case. They discovered it was very different than other cases presented by previous industry speakers.
"We thought mostly about what are the raw numbers," said Pappas. "It was very focused on one specific problem, which was the cap-and-trade compliancy strategy Chevron should approach based on a fictional version of California's cap-and-trade system."
"We need to do that in a way that returns funds to our shareholders."
The team took their solution to the next level.
"Instead of looking at one year—sorry—we looked at five years," said Halbrook in her team's presentation.
The economic strategy they presented to Lohec and his Chevron colleagues found cost savings, which could be applied to research and development projects.
"Instead of spending too much time and energy in capturing carbon from these plants," said Loeb, "a lot more energy should be looked at how we are investing in new technologies that really could compete with fossil fuels."
With a smile to the Chevron team, Halbrook got straight to the point:
"We know that Chevron's doing a great job of investing here at the university," she said. "But we can always take more of your money!"
Category
Tags